February 23, 2022
5 Ways To Style White Kitchen Cabinets

If there's one thing that's clear, the popularity of white kitchen cabinets won't die down anytime soon, and understandably so. When it comes to designing your perfect kitchen, white cabinetry serves as the ultimate blank canvas. No matter what your style preference, you can create a kitchen that speaks to your personality using white kitchen cabinets. All it takes is choosing the door style that is most appropriate for your chosen style, and accessorizing and decorating your kitchen to your liking. Here are 5 distinct kitchen design styles featuring white kitchen cabinets:
Traditional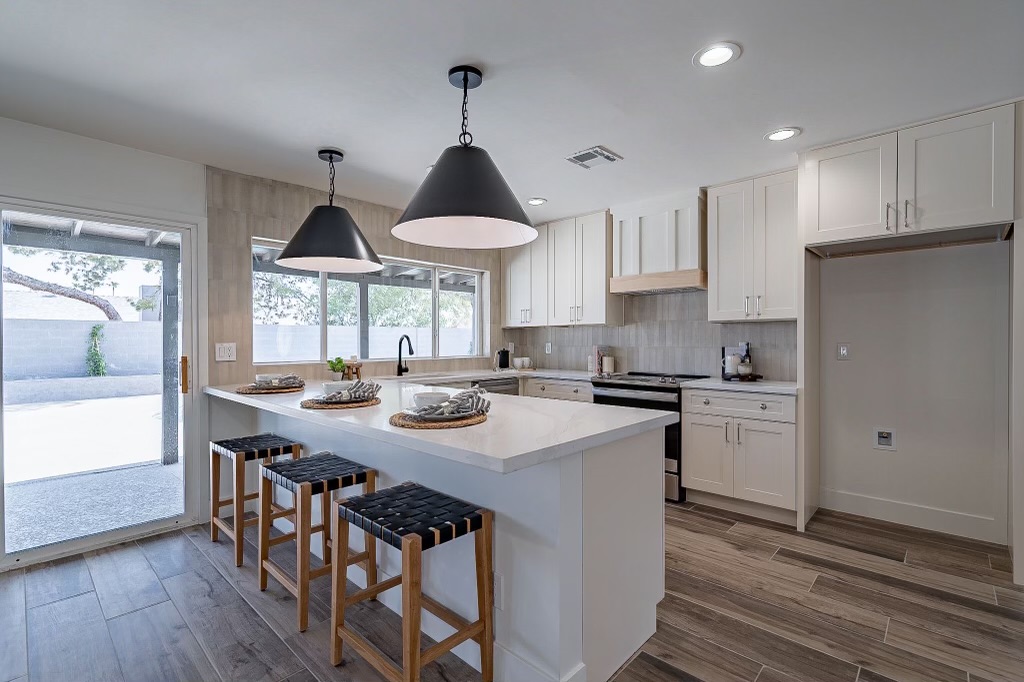 Traditional kitchens are all about the details. This white kitchen boasts the elements of a traditional design in that it embraces the detailed elegance that crown mouldings, corbels, and legs can bring to a space. Glazed raised panel cabinetry, adorned with ornate oil-rubbed bronze hardware, adds more to the eye-catching architectural elements that are already present. This two-tone kitchen features dark cabinetry for the island, which helps to produce a visual contrast that prevents the space from looking too monotonous. Traditional pendant lights and classic white marble countertops add the final touch, creating a luxurious space with white cabinets at its center. Want to create a traditional white kitchen? Try Divine Signature Cabinets.
Classic
Though the two terms may sometimes be used interchangeably, classic and traditional kitchens are not the same. Unlike traditional kitchens, classic kitchens are simpler and more subdued. Traditional kitchens can feature a number of cabinet colours, but classic kitchens are almost always centred around white cabinetry. If you're into bold colours, a classic kitchen is probably not for you, as black & white is the preferred colour scheme of classic kitchens. The above kitchen embraces a neutral palette that allows the white cabinetry to shine; contrasting black and white stone countertops and grey subway tile complement the white cabinets without being overwhelming. When choosing white cabinetry for your classic kitchen, skip the cabinets with detailed raised panels and opt for a shaker-style door instead. If you're looking to create a classic kitchen, try using our Ice White Shaker or Uptown White kitchen cabinets.
Cottage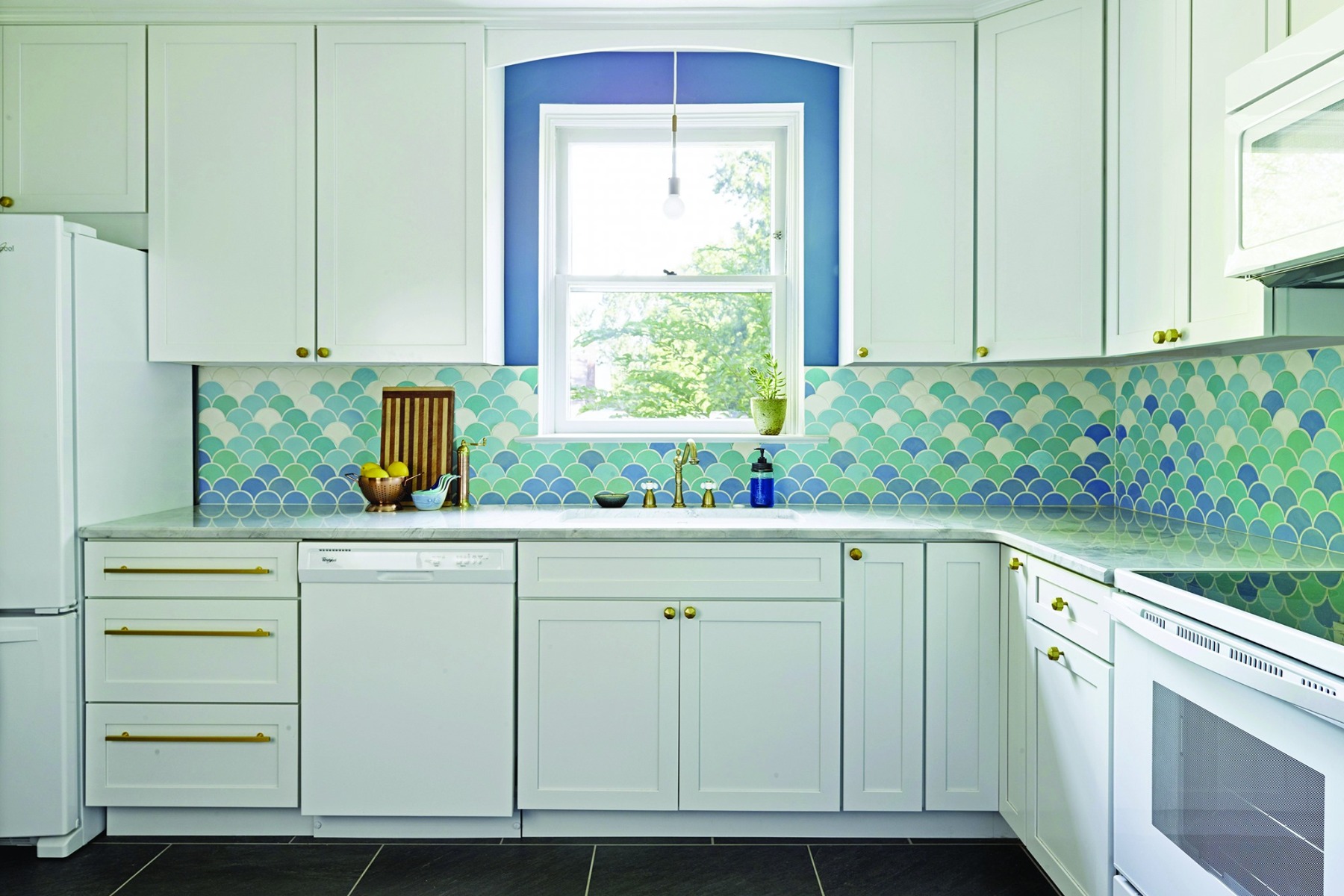 This cottage-style kitchen fully embraces white, opting for a completely monochromatic look with only hints of pastel blue and green foliage. Of course, your cottage kitchen doesn't have to be so stark; incorporating other pastel shades can help bolster the coziness that cottage-style kitchens are all about. If the cottage is your style, opt for simple shaker-style cabinetry and adorn it with the cup pulls of your choice. A cottage kitchen is also never complete without a farmhouse kitchen sink and beadboard panelling. While this kitchen utilizes beadboard panels on the walls, it can also be used on the back of your island. Beadboard panels are available as an accessory in Divine White Shaker line of kitchen cabinets.
Industrial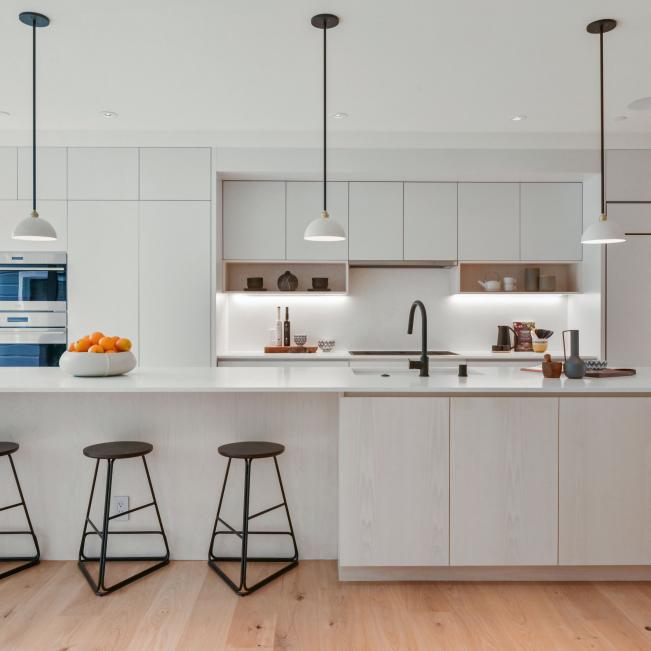 Industrial kitchens are all about neutral hues and natural elements. As in the kitchen featured above, rustic woods, stone and metals should be the complementary materials that you choose to style your white kitchen cabinets. Contemporary stainless steel appliances and industrial-style pendant lights are the featured metal elements, though you can always add more. Exposed wood beams are a classic industrial element, and stone floors and countertops bring the entire look together. For your industrial-inspired kitchen, you can choose from a range of white cabinet styles, though simpler is better. To create an industrial kitchen with hints of the traditional, try our raised-panel White kitchen cabinets and stick with crown moulding as your accessory of choice. For a more contemporary spin, a Shaker-style cabinet without additional accessories will be a better choice.
Eclectic
White kitchens do not have to be monochromatic or boring. On the contrary, white kitchen cabinets are the perfect foundation for mixing and matching the colours, materials and textures of your choice. If you're resistant to the constraints of traditional and classic design styles, then an eclectic-style kitchen is your best bet. The key to creating an interesting eclectic kitchen is to not go overboard. The kitchen above uses a bold green paint colour, eye-catching orange hanging lights, subdued blue-grey mosaic backsplash tile, and wood elements in varying yet similar shades. All of these elements together add a splash of personality to otherwise simple white shaker cabinets.