February 01, 2021
Trend to Stand Out: White Cabinets & Black Hardware
Farmhouse and minimalist kitchen designs are very popular. The benefit of having a clean slate is that you can choose whatever hardware you desire to accentuate your space. Oil rubbed bronze helps bring out a more farmhouse or classic look, while black hardware creates a minimalist sleek look. The beauty of an all-white kitchen is that the kitchen cabinet ideas are limitless.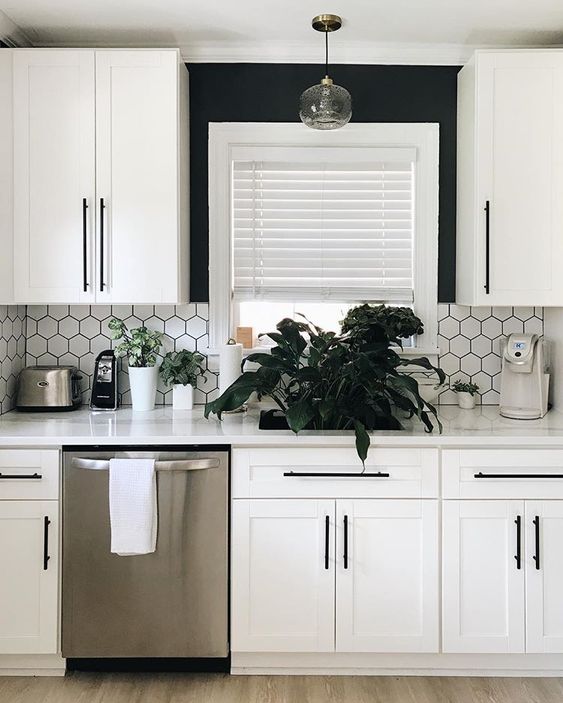 If you have a U-shape, L-shape, open concept, or galley kitchen the crisp lines of a white door in any door style will help open up space and give you a full slate of ideas for hardware and appliances.
Choosing The Right White Kitchen Cabinets With Black Hardware For Your Style
Most homeowners and designers opt for a classic door style when pairing them with black hardware. Whether the decision for the hardware is matte black or metallic, both last for the life of the cabinetry and home. They also transition well for appliances, decorations, and trends.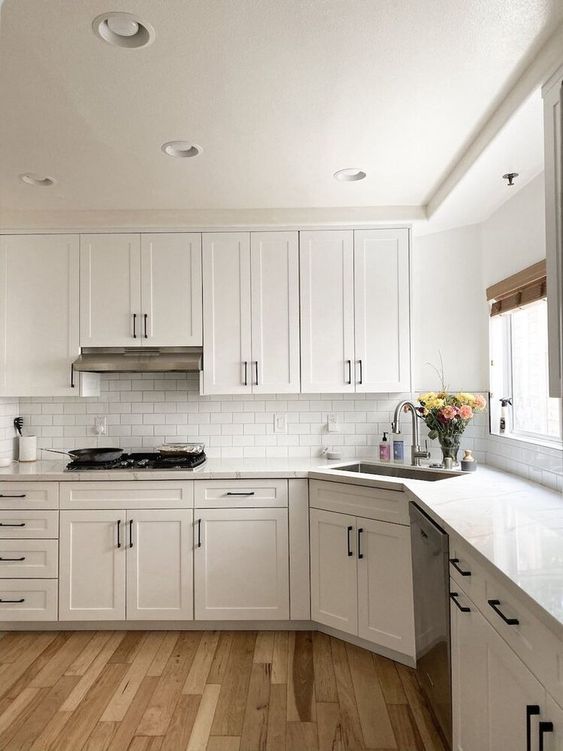 For a Timeless Look, Try White Shaker Cabinets and Black Hardware
Shaker-style cabinetry can provide a variety of looks and will give your home versatility for years to come. By simply adjusting your cabinet hardware, you can create different design styles without refacing your cabinets. Interior designers often opt for a shaker door style because of its ability to last with the homeowner's changing tastes. A simple change of hardware years down the road can help you retain your cabinetry and achieve an entirely new look. Below, you'll see that shaker style cabinetry can be anything from a cozy farmhouse to sleek and modern.
Divine shaker door style brings a warm classic look to this smaller L-shaped kitchen area. The differing hardware shapes are intentional. Since the drawers are slab drawers, a sleek hardware design is minimalist for functionality. The Divine shaker style cabinetry is complemented with a more intricate knob that only emphasizes the beauty of the kitchen.
Divine shaker door style with slab front drawers in maple are beautifully finished in off White. This is yet another reason why shaker style doors are so easily paired with any hardware in almost any space. The dark hardware is so versatile that it completes the galley style kitchen for both the Bright White and the island in the darker Drift stain.
Frequently Asked Questions About White Cabinets & Black Hardware
What hardware looks best on white cabinets?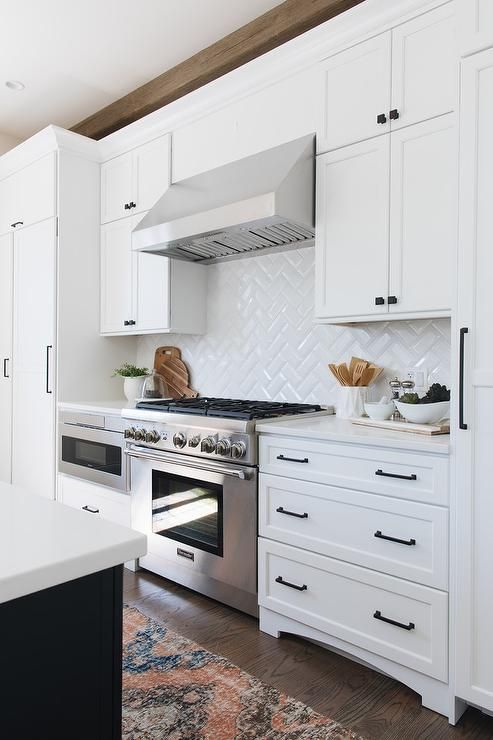 A variety of hardware, from pulls to knobs will be aesthetically pleasing on white cabinetry. The greatest thing about white cabinets is that any shape pull or knob will work depending on the style of kitchen you are dreaming of. Although we have discussed the timeless black hardware, gold and oil rubbed bronze are also popular choices and will give you the ability to accessorize your cabinets as you wish.
Should the faucet match cabinet hardware?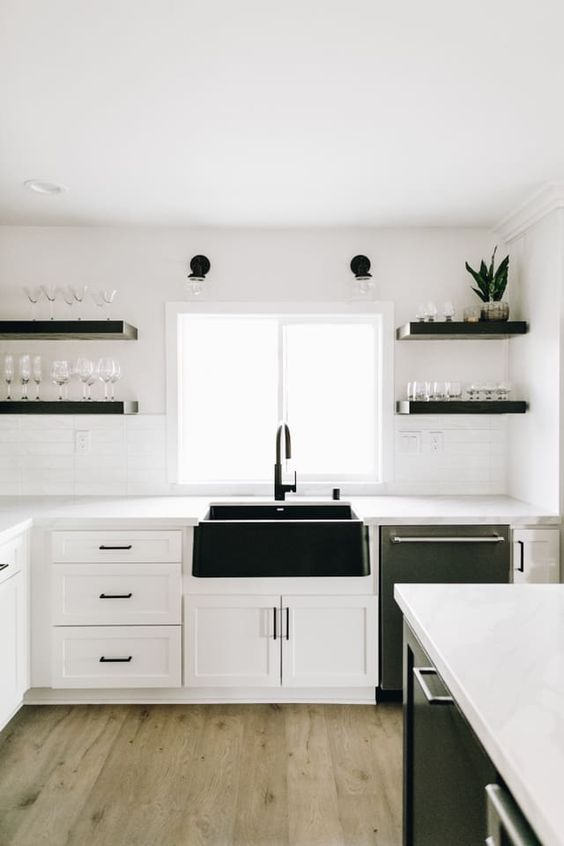 Many homeowners assume that the faucet must match the kitchen cabinet hardware. This is not the case. You absolutely can mix and match the finishes for a contrasting look. The only concern you should have is that your kitchen makes you happy and is functional.
Do black appliances go with white cabinets?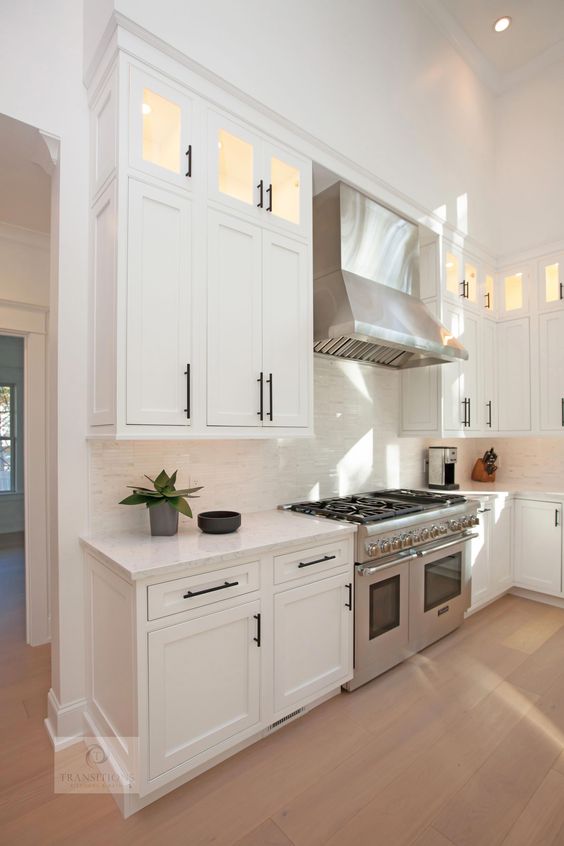 Black appliances pair well with black hardware on white kitchen cabinets because they complement each other. The same could be said for stainless steel appliances as they provide a timeless look. Whether you opt for a matte black or metallic finish hardware, either appliance color will work well alongside white kitchen cabinets.